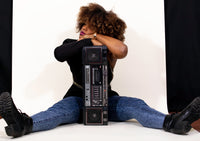 About us

Remember that awkward little girl in your elementary class? The one who always tripped over her shoe laces...
Or maybe it was the red head in junior high who snorted when she laughed but always has the most eclectic color palette in her wardrobe.... this is for you!
Life's journey of finding and accepting oneself can be tiresome; but what I've grasped in my 30 + years ( tee hee) of life is the importance of true individuality. The best service you can give the world is a confident you! Xstravagance designs is geared towards helping that maybe very creative yet also very timid, and withdrawn girl blossom to be the uniquely beautiful and authentic individual God created her to be! Unapologetically and striving to push other women to do the same! 
I personally think God is like the best artist so We purposely incorporate the most vibrant colors and prints so that every woman that shops with us takes on the world looking like a masterpiece! Made from substainable materials and utilizing over 90% or material we eliminate textile waste from ending in in landfills! With Xstravagance you can feel comfort in being bold and beautiful. Continue to visit us as the collection grows!